Our History
100 years of saving pets and changing lives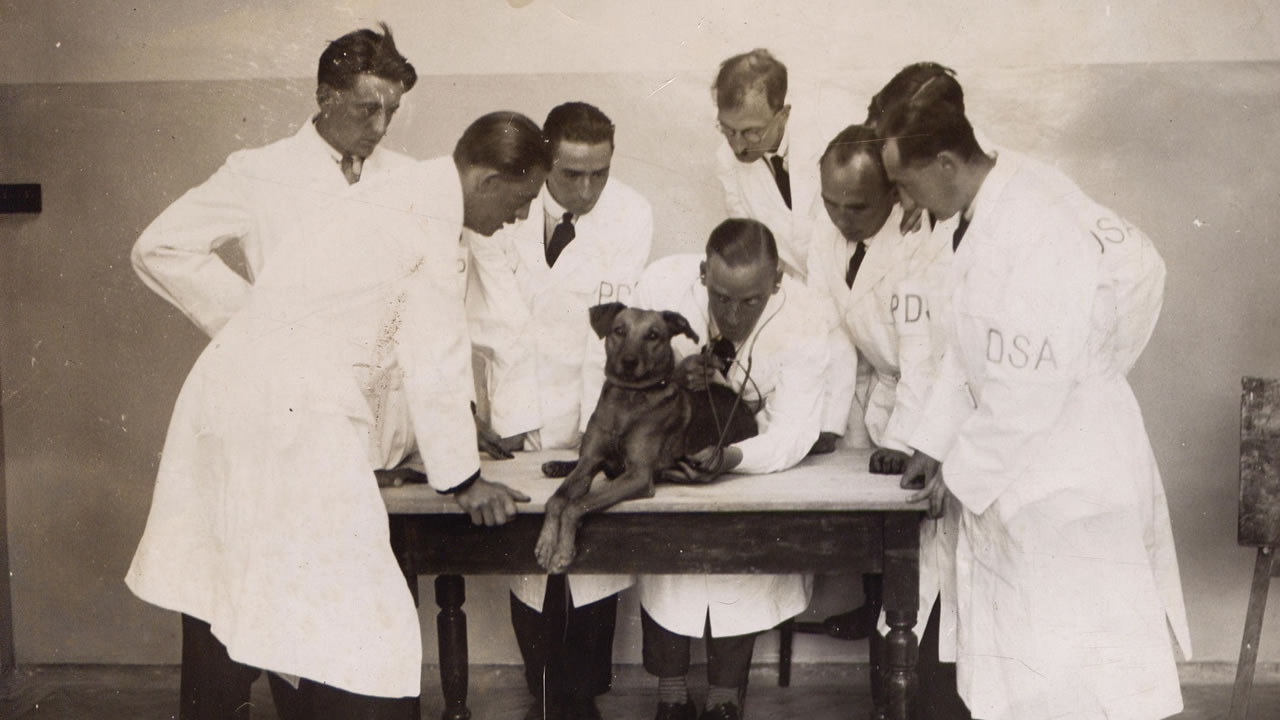 PDSA: one woman's vision
In 1917, our founder, Maria Dickin, began a mission to end pet suffering. 100 years later, her vision is still at the heart of everything we do.
The idea of a veterinary service for the pets of those most in need first came to Maria Dickin when she visited some of London's poorest communities. She was shocked by the dire human poverty, but it was the sight of animals suffering in silence that she found unbearable.
'Animals too must have a better world to live in'
- Maria Dickin
The plight of these animals struck her again when her own beloved dog became seriously ill. She was lucky enough to be able to afford vet fees, but what about the pets of those who couldn't?
At first, Maria struggled to find support for her radical idea. Thankfully, she was determined.

After a long struggle for funding, Maria Dickin finally opened the doors to the first People's Dispensary for Sick Animals on 17 November 1917. Outside was a sign that read:
Bring your sick animals
Do not let them suffer
All animals treated
All treatment free
A century later, PDSA has continued to grow and Maria Dickin has left a lasting legacy on animal welfare in the UK.
Watch our amazing story:
1917 - 1930
A decade of innovation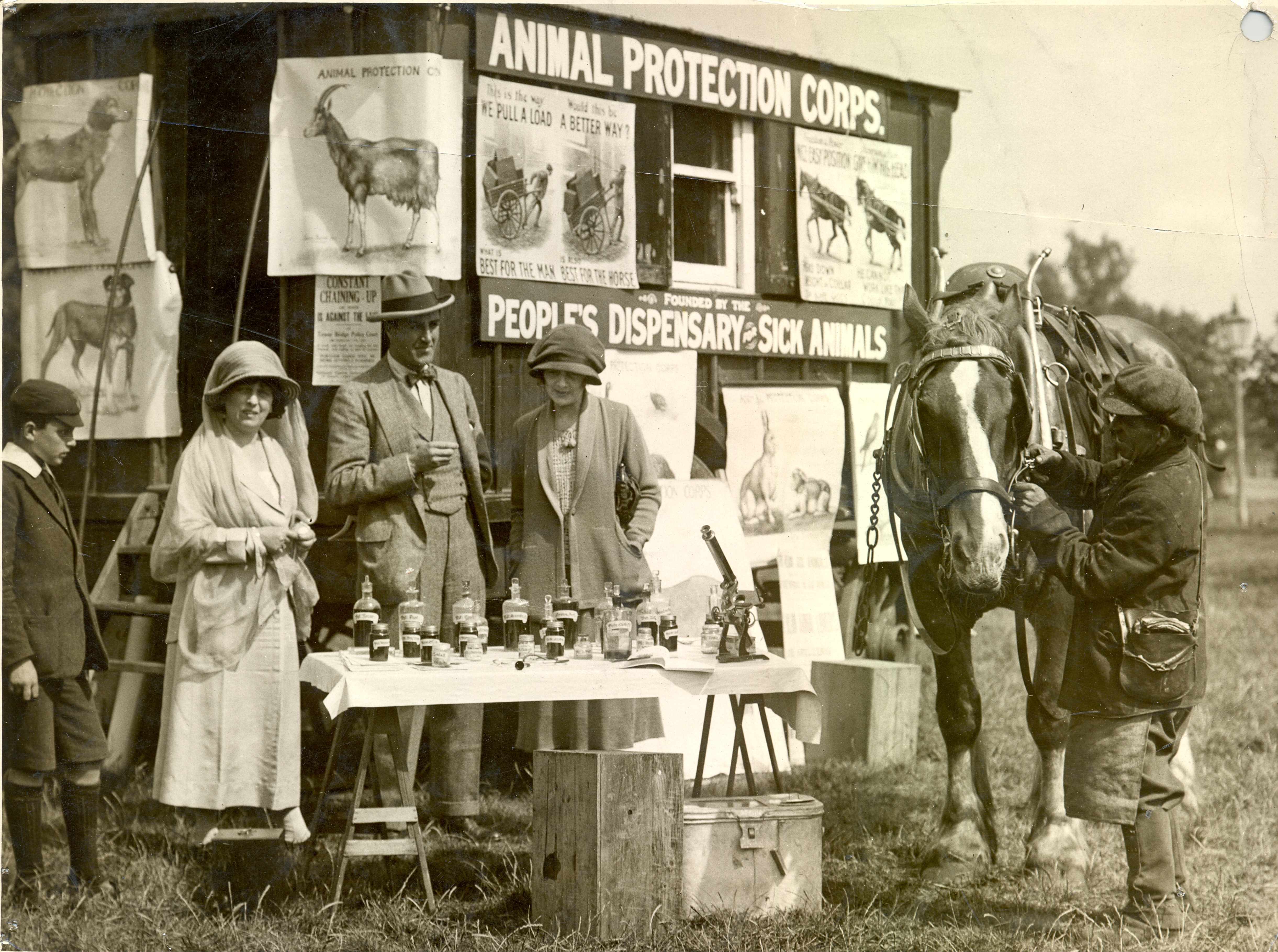 A PDSA caravan dispensary
A PDSA caravan dispensary
1917 - The very first PDSA Pet Clinic opens
The People's Dispensary for Sick Animals of the Poor opens its first clinic in a cellar in London's Whitechapel. Our inspirational founder, Maria Dickin, is moved by the plight of sick animals and the owners who can't afford to treat them.
1921 - Reaching animals and helping owners
Maria Dickin finds a way to reach more animals in need and educate their owners. She transforms a horse-drawn caravan into a travelling clinic, the first in a fleet for Britain.
1923 - Laying foundations in London
Within four years, PDSA has set up seven pet clinics acrossLondon. We start to establish permanent clinics in the areas of greatest need.Exeter also welcomes the first PDSA Pet Clinic outside of London.
1924 - 17 Pet Clinics for PDSA as word spreads
PDSA now has 17 Pet Clinics across the UK, caring for 150,000 animals every year. We also extend our work abroad to Paris, Romania, Tangier, Egypt, Greece and Palestine.
1928 - Europe's first animal sanatorium
On the edge of London, the Ilford Sanatorium offers a rest home for horses and donkeys, and a fully equipped training centre for vet students. A modern PDSA Pet Hospital now stands on the site.
1929 - A generation of Busy Bees
Maria Dickin launches Busy Bees, a club for children. Our young supporters are soon learning about how to take good care of their pets, as well as raising vital funds for PDSA. Today, our Pet Protectors kids club continues her mission to educate theUK's future pet owners
1930 - 1950
Animals in war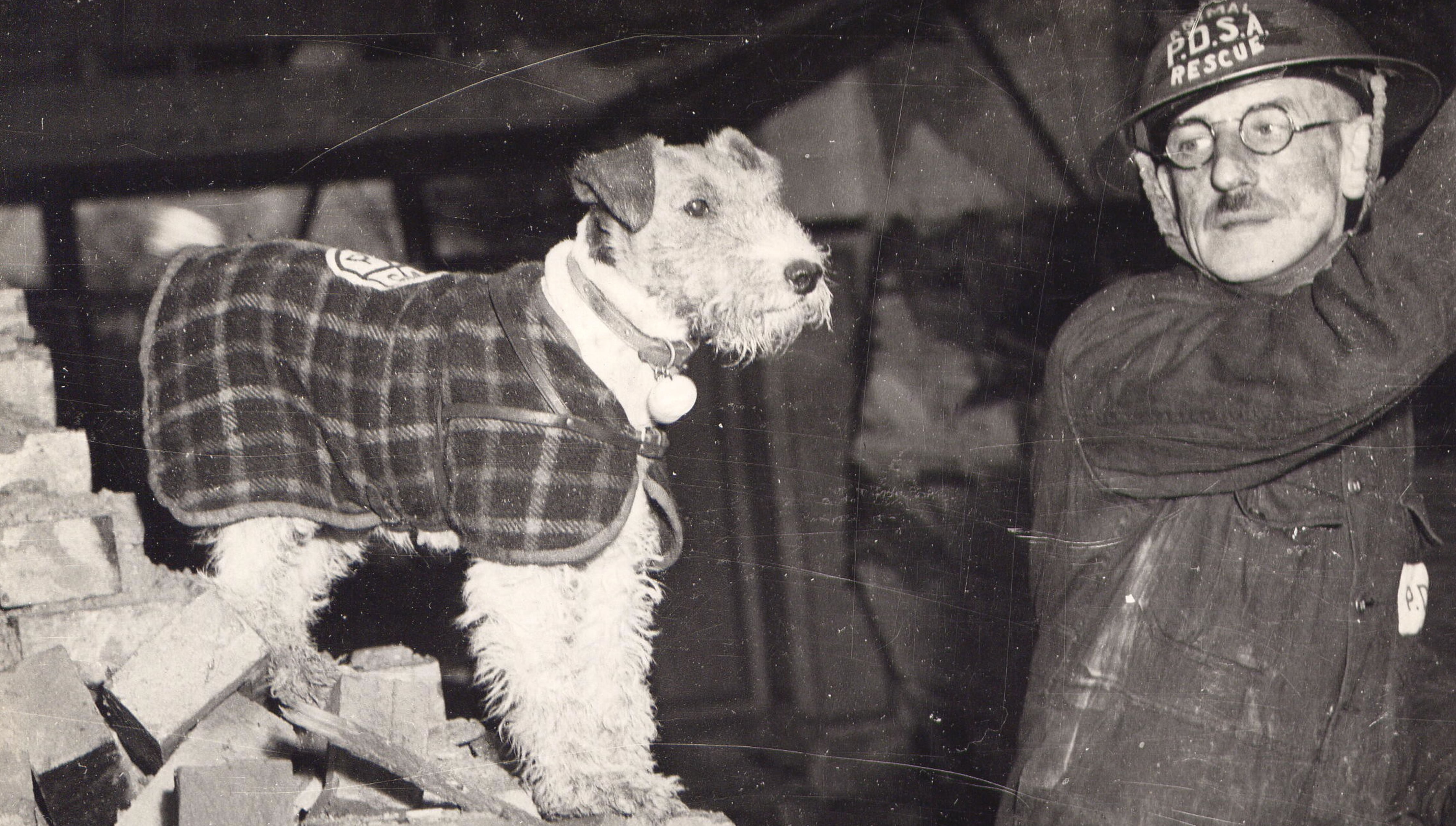 PDSA Rescue Squad dog, Beauty, working with handler Bill Barnett during the Blitz
PDSA Rescue Squad dog, Beauty, working with handler Bill Barnett during the Blitz
1931 - The 'Empire Christmas Pudding'
As the country faced great unemployment and growing poverty, we decided to spread a little festive cheer by giving everyone in London's East End a taste of a giant Christmas pudding. The huge 'Prince of Wales' Empire Christmas Pudding' was paraded through the streets.
1934 - Free annual treatments surpass 1 million
The number of free annual treatments reaches a staggering seven figures.
1939 - Saving pets in wartime
Between 1939 and 1945, dedicated PDSA Animal Rescue Squads help to save and treat more than 250,000 pets injured and lost during the Blitz.
1943 - A club for animals in service
PDSA sets up its Allied Forces Mascot Club for animals serving during World War II, both saving lives and providing morale-boosting companionship for soldiers, sailors and airmen.
1943 - Recognising animal bravery
The PDSA Dickin Medal is established to honour the gallantry and devotion of animals that show outstanding endurance or bravery in the line of duty.
1950 - 1970
A legacy of pet wellbeing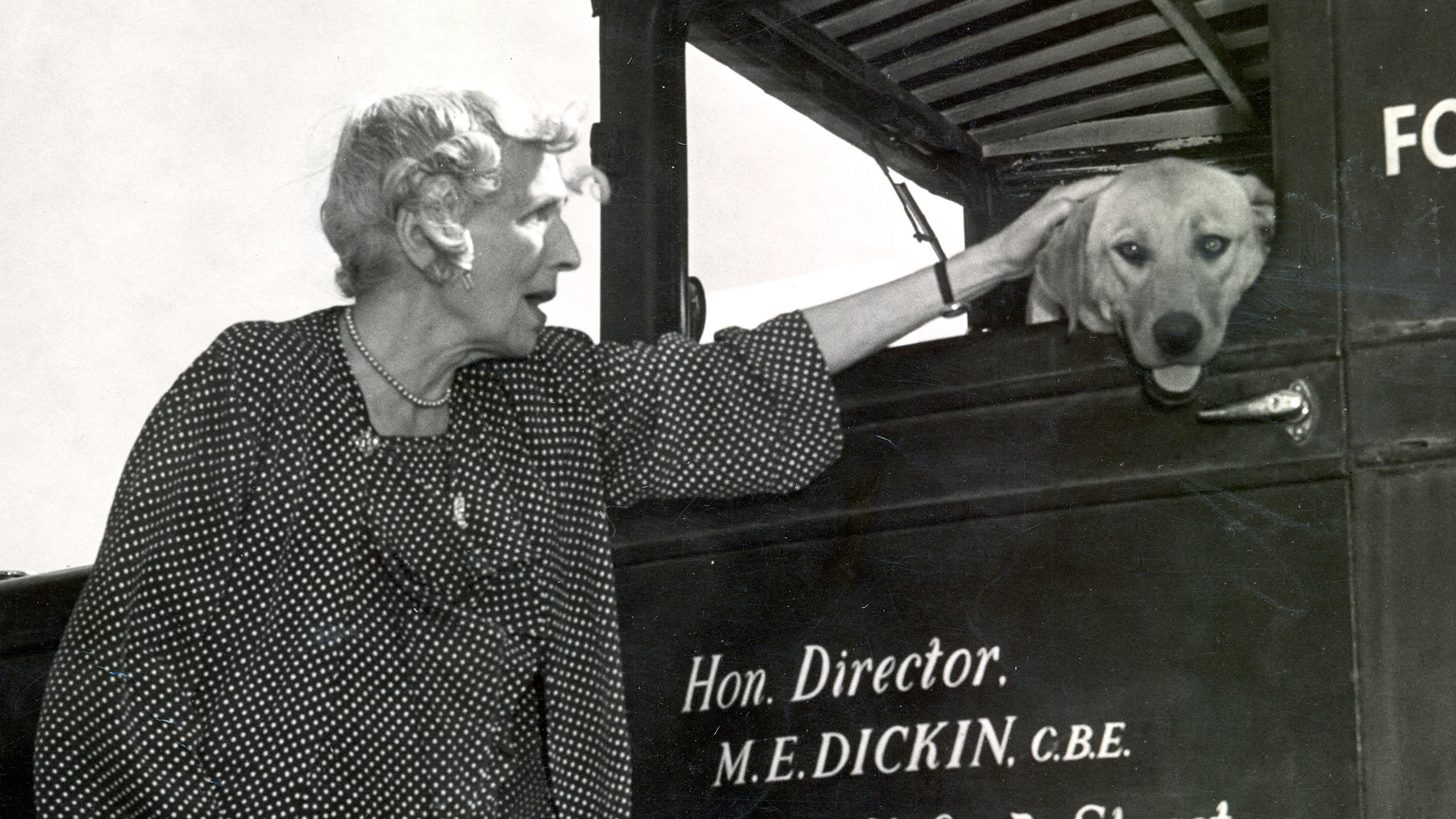 Maria Dickin in her later years
Maria Dickin in her later years
1951 - A very sad day for PDSA
Our founder and inspiration, Maria Dickin, CBE, passes away (aged 81) after a life spent working tirelessly on behalf of animals. She is remembered worldwide as one of the greatest figures in the history of animal welfare.
1952 - Enid Blyton becomes Queen Bee
The famous and much-loved children's writer attracts over 20,000 new members in her first year as head of our Busy Bees children's club.
1958 - A new club for junior supporters
Buoyed by the success of the existing Busy Bees club, PDSA launches the Animal Service Guild, a new club aimed at older children.
1960 - Our very first PDSA Pet Hospital
To keep pace with advances in veterinary medicine and technology, PDSA opens its very first purpose-built Pet Hospital, at Dunkirk Road, Nottingham, in July 1960.
1970 - 1990
New ways to fundraise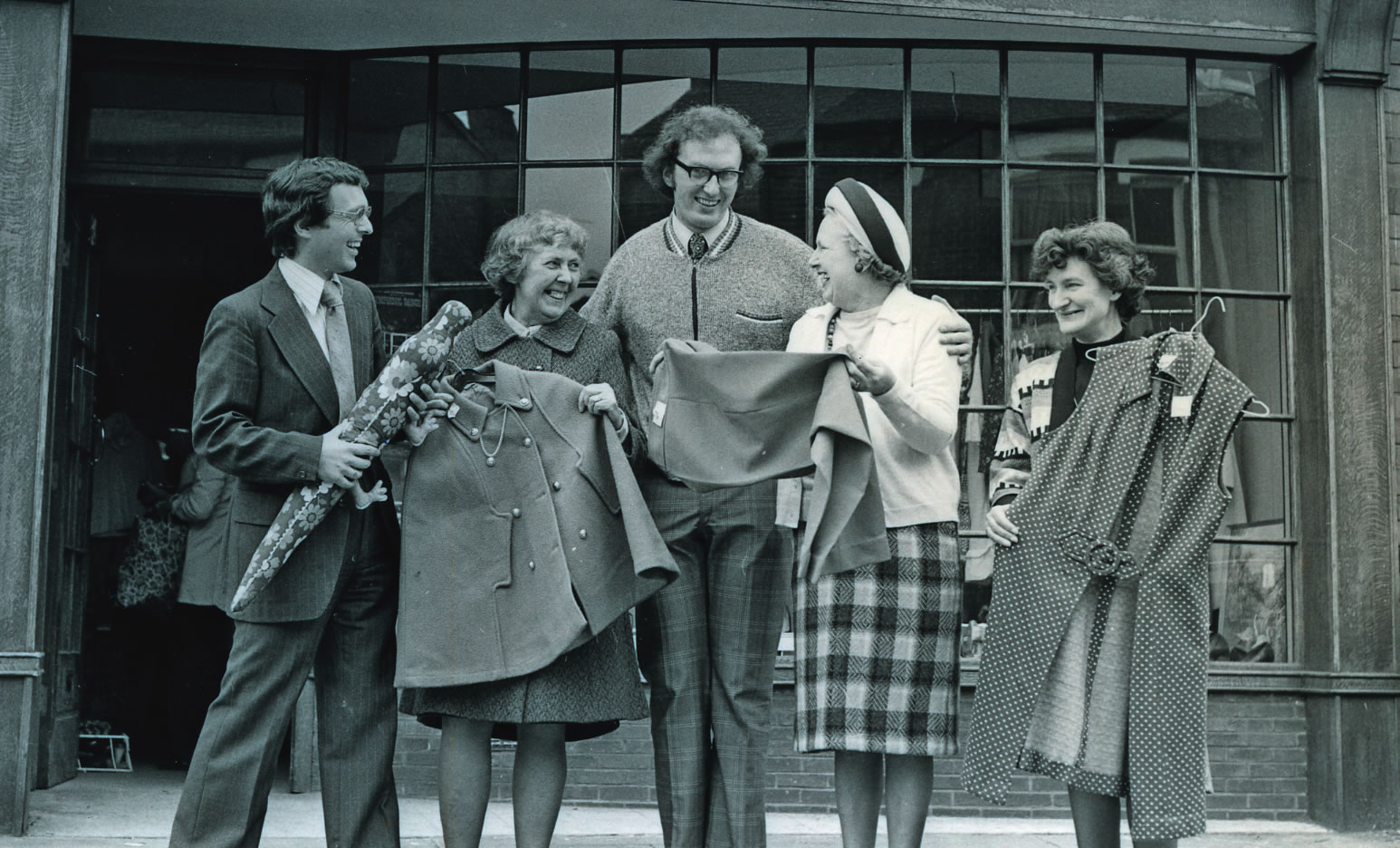 An early PDSA charity shop
An early PDSA charity shop
1971 - We hit the high street
PDSA now has 15 charity shops on high streets across Britain, eachraising money to fund our vital pet care service.
1973 - PDSA welcomes HRH Princess Alexandra
Continuing the long-standing involvement of the Royal Family in the work of the charity, Her Royal Highness Princess Alexandra succeeds her mother as Patron of PDSA, a position she holds to this day.
1975 - A fond farewell
It's the end of an era as PDSA, under new laws, withdraws our Mobile Animal Treatment Units, more than 50 years after they first appeared on the streets of Britain.
1980 - We start in-house training for our nurses
PDSA introduces its first in-house training scheme for veterinary nurses. It's in keeping with our reputation for pioneering developments in veterinary medical practice.
1983 - A new way to fundraise
We introduce a lottery draw to boost the charity's funds and help give more vital care for pets in need.
1990 - 2010
The changing face of animal welfare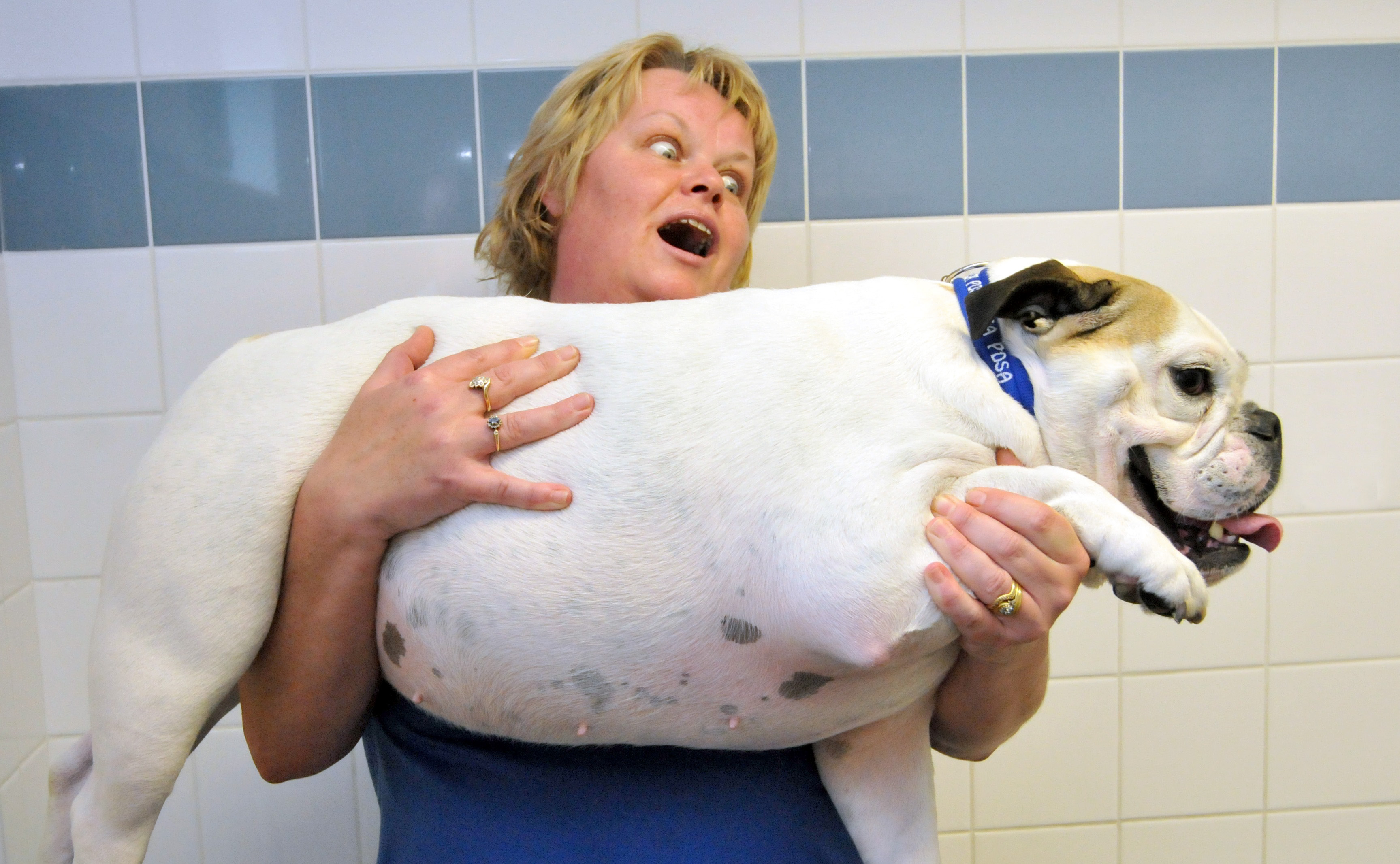 Daisy, a Pet Fit Club contestant, at the start of her drastic weight loss
Daisy, a Pet Fit Club contestant, at the start of her drastic weight loss
1993 - A brand new club for children
PDSA launches our Pet Protectors Club, replacing the previous club, Busy Bees. Through our new club, we reach thousands of children and teenagers every year, to teach them about caring for pets.
2001 - PDSA Gold Medal launched
Known as the animal's George Cross, the PDSA Gold Medal is awarded to for gallantry and devotion to duty outside of military conflict. It recognises working animals, including police, rescue or assistance animals, who have been instrumental in saving lives.
2005 - The launch of PDSA Pet Fit Club
We start Pet Fit Club, our annual pet slimming competition, in an effort to help combat the rising levels of pet obesity. Since 2005, Pet Fit Club has helped 78 dogs, 34 cats and 7 rabbits lose a total 68 stone 9lb - equivalent to a grand piano or 192 Chihuahuas!
2006 - A new look for our Animal Cemetery
The PDSA Animal Cemetery in Ilford, Essex, undergoes restoration. A £50k grant from the Big Lottery Fund and The People's Millions helps PDSA improve the Cemetery with a new visitor centre and wheelchair-accessible path.
2008 - Northern Ireland's first Pet Hospital opens
Belfast becomes home to the first dedicated PDSA Pet Hospital in Northern Ireland.
2008 - Paws Forever
To give people a way to remember their much-loved pets we open a new Garden of Remembrance and the Paws Forever Pet Tribute Garden at Ilford PDSA Animal Cemetery.
2010 - Today
Looking to the future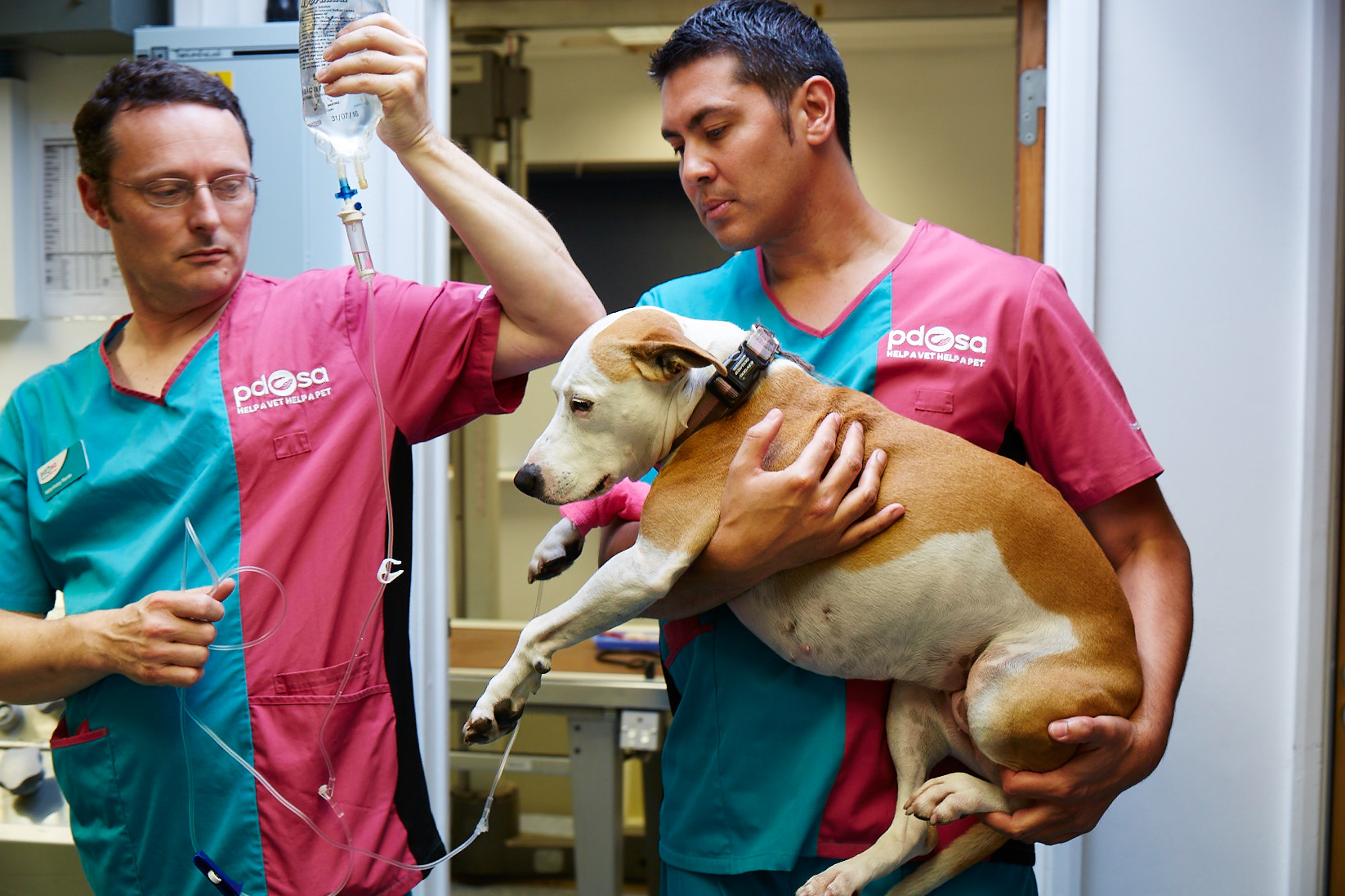 2011 - Launch of the PDSA Animal Wellbeing (PAW) Report
We launch the groundbreaking PDSA Animal Wellbeing (PAW) Report, giving the most comprehensive insight ever into pet wellbeing. It is referenced widely across the media and the veterinary profession.
2012 - PDSA wins the Queen's Diamond Jubilee Volunteering Award
We're delighted to be one of just 60 organisations recognised for the hard work, commitment and generosity of our volunteers.
2013 - Support from the People's Postcode Lottery
The UK's affection for PDSA comes out in force when we win a public vote for the country's most loved charity, scooping an incredible £50,000 from the players of People's Postcode Lottery. We use the funding in two important ways: to help prevent illnesses, and to educate millions of owners on animal wellbeing.
2013 - Robert Breckman donates two PetCheck vehicles to PDSA
Generous donor Robert Breckman helps keep our mobile PDSA Pet Check vans on the road by funding two new vehicles in memory of his wife, Julie Breckman. Our Pet Check vehicles tour the country, offering free wellbeing checks to dogs and advice on the care of other popular pets.
2014 - Reaching more pets in Margate
Thanks to an amazing donation from Frank and Ethel Fright, we are able to offer veterinary care at a reduced cost to pet owners living on the fringes of poverty who can meet some, but not all, of the cost.
2014 - PDSA Order of Merit launched
The animal equivalent of the OBE, that recognises both outstanding acts of devotion and the special relationship between pets and people.
2015 - 'You're the reason'
PDSA is on the small screen with a new advert to raise awareness of the work we do. Called 'You're the Reason' and inspired by the people and pets we work with everyday, the advert shows the incredible relationships between pets and owner.
2015 - A blue plaque for Maria Dickin
Our founder, Maria Dickin, is commemorated with an English Heritage blue plaque on her childhood home in Hackney, London. The plaque reads:
Maria Dickin, 1870 -1951, promoter of animal welfare and founder of the PDSA was born here
2017 - A new weekly lottery
As we head into our Centenary year, we launch a new weekly lottery to help us raise funds for the future.
2017 - 100 years of saving pets and changing lives
We're so proud of what Maria Dickin started and what we've achieved in the last 100 years - but we've only just begun. This year, as well as celebrating the past, we'll be looking to the future and turning our attention to fresh challenges to do more for the UK's most vulnerable pets. 

Join our celebrations, help us raise funds and awareness so we can continue our work for the next 100 years and beyond.